Phil Spector's Wife Slams Al Pacino's Depiction of Her Husband in HBO Movie
March 22, 2013 (4:02 am) GMT
'Al Pacino does not depict my husband accurately,' Rachelle Spector says, arguing that 'if they had wanted to do that, they would have actually met the man himself.'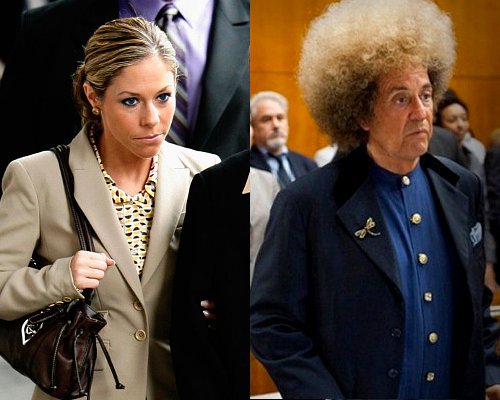 On the eve of "Phil Spector" premiere on HBO, the wife of the convicted killer depicted in the TV movie comments on Al Pacino's portrayal of her husband. Rachelle Spector isn't amused by the veteran actor's performance, claiming, "Al Pacino does not depict my husband accurately."

"If they had wanted to do that, they would have actually met the man himself," she explains her judgement in an interview with Rolling Stone. "They would have wanted to know his voice inflections, his mannerisms..."

"...even his thought process when he was working in the studio when he was working with those musicians, or what he was going through mentally or emotionally when the trials were happening. They had the opportunity to make an amazing film, what with the actors and the money involved," she adds.

Still, Rachelle says the movie at least does justice in pointing out the evidence that could release her husband. "Regardless of how I feel about the cheesy portrayal of my husband and the gun-waving, the yelling and the crazy stuff, what they did get right was the forensic evidence that could set my husband free," she admits.

On her absence from the film, Rachelle tells ET, "[HBO] wanted to show no female support. No supporters at all. They didn't want to meet my husband. They didn't want to know what he thought, how he acted, anything about the music. They wanted nothing to do with either of us."

"Phil Spector" will premiere Sunday, March 24 at 9/8c on HBO. Written and directed by David Mamet, it explores the client-attorney relationship between legendary music producer Spector and defense attorney Linda Kenny Baden, who represented Spector during his first trial for murder. Helen Mirren stars opposite Pacino as Baden.

Explaining his decision not to meet the real Spector, Pacino once said, "It would have been meeting a different person. Now he's been convicted and he's in prison... This person I'm playing is the guy who was there before he was convicted. I played him as what I believe David Mamet wrote and how I believed to interpret him."