Producer Rules Out Batman-Superman Crossover
January 6, 2011 (4:06 am) GMT
Charles Roven claims both superheroes do not share the same universe, saying 'Batman lives in his world and the Superman lives in his world.'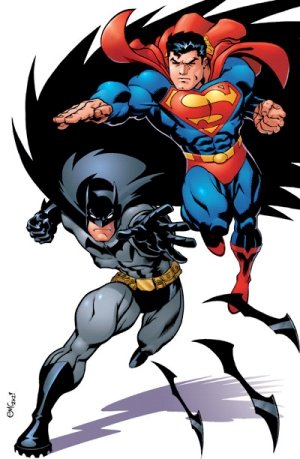 DC/Warner Bros. is not going to take the same way as their rival Marvel and put together their superheroes in the same universe. Producer Charles Roven says in a recent interview with Shock Till You Drop (STYD) that there is no plan to feature Batman and Superman in the same universe despite the fact that Christopher Nolan is working on both "The Dark Knight Rises" and "The Man of Steel".

"No. That may be in somebody's mind but right now the Batman lives in his world and the Superman lives in his world," he states when asked whether the two famous characters will share universe one day. "Those stories are those stories and we haven't thought beyond each individual picture."

Roven later addresses reports that "The Dark Knight Rises" will be last chapter of "Batman" trilogy from Nolan. "Well, I think that Chris Nolan has said that he wanted to make a trilogy and this is a trilogy. As far as we all know, this is it. This is the trilogy. 'The Dark Knight Rises' is the third part of what Chris created with 'Batman Begins' and we're not looking past that," he explains. "He's not thinking, 'will there be another one?' And he's already said, in his mind, it's a trilogy. So I think he's just focusing on making this the best he possibly can and that's it."

As for how Nolan, who is famous for focusing on one project at one time, arranges his time to prepare for directing "The Dark Knight Rises" and produce "The Man of Steel", Roven shares to STYD, "It's a huge workload... Hopefully, there will be a little bit of time in-between the start of production on both of them." He adds, "We haven't even entered official pre-production on either one of them -- there will be a little bit of room. They're both going to be long shoots. I'm sure there's going to be some overlap, but hopefully there'll be as little overlap as possible."

"The Dark Knight Rises", which will see Christian Bale returning as Bruce Wayne aka Batman, is slated to start shooting in April 2011 for a July 20, 2012 release in the U.S. Meanwhile, "The Man of Steel" has tapped Zack Snyder to serve as director and is currently looking for an actor to portray the titular character. The movie is scheduled for 2012 winter release.