Reno 911!: Miami on Work
January 6, 2006 (2:13 am) GMT
20th Century Fox and Paramount Pictures will co-produce "Reno 911!: Miami," which will be directed by the TV series' co-creator, Robert Ben Garant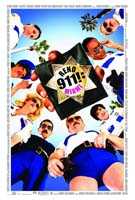 The Hollywood Reporter said that 20th Century Fox and Paramount Pictures will both co-produce "Reno 911!: Miami." An action comedy genre, the film will be directed by the TV series' co-creator, Robert Ben Garant.

Judged as an improvisational-based project, "Reno 911!: Miami" is the story about the officers visiting a national police convention in Miami Beach at the height of spring break. When the convention center is bio-attacked, it's up to Reno's "finest" to save the day.

Follow a script written by Garant and fellow series co-creators Thomas Lennon and Kerri Kenney, the film is slated to start shooting Jan. 23 in Miami and Los Angeles.