Odd Future Explode Offstage at SXSW
March 21, 2011 (8:07 am) GMT
Having sound problems during the concert, Tyler the Creator ranted on his Twitter page, 'That Show Was Stupid. Thanks to the Fans and N**gas that Was There In The Front... F**K THAT CLUB.'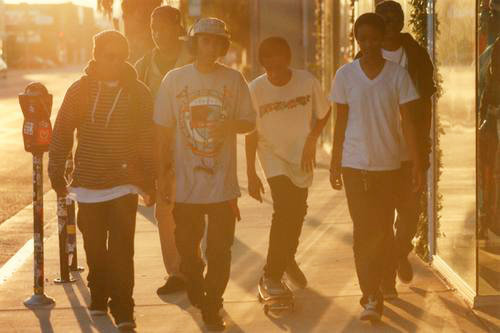 Much-hyped hip-hop group Odd Future sparked controversy at the South by Southwest festival in Austin, Texas on Saturday night, March 19 by storming offstage just minutes into their Billboard magazine showcase following a series of sound issues.

The group didn't even get through its first song at the Buffalo Billiards venue before rapper Tyler the Creator stopped the show and demanded sound problems on-stage were fixed immediately. He raged, "Mic number two is f**ked up. Fix that s**t." The group then restarted the set, but made it through just three songs before throwing down their microphones and storming offstage.

Tyler later took to his Twitter blog to further berate the sound engineers who he claimed ruined the show. He wrote, "That Show Was Stupid. Thanks to the Fans and N**gas that Was There In The Front... F**K THAT CLUB."

It was the second controversy at an Odd Future performance in as many days, Tyler was hit by a bottle thrown at the stage during a surprise SXSW set on Friday night, March 18. The show was halted as the rapper and his band-mates searched for the culprit in the audience.