Pearl Jam, Maroon 5 and More Donate Tracks for Green Cause
March 2, 2011 (4:04 am) GMT
The group of musicians, which include also Jack Johnson and Zac Brown Band, are saving the planet by donating the proceeds of their songs' sale to environmental cause.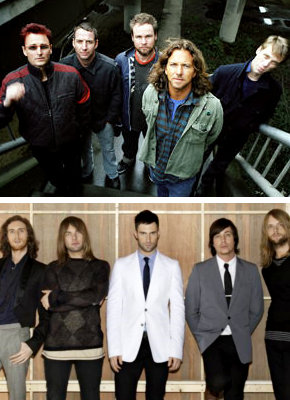 Pearl Jam and Maroon 5 are among the bands who have donated tracks to a new music initiative to benefit eco-friendly causes. The rockers join Jack Johnson, Bonnie Raitt and the Zac Brown Band in lending exclusive music to the Patagonia Music Collective website, which will offer fans more than 20 songs for $0.99.

After the launch on Tuesday, March 1, a new song will be made available every week, with proceeds going to the environmental cause of the artist's choice Pearl Jam are offering up their track Oceans, with earnings to benefit marine life charity Conservation International, and guitarist Stone Gossard is hopeful "there's an opportunity for some real change to happen".

"My hope is that fans see their favorite artists supporting the environment and want to get involved themselves," says Patagonia founder and owner Yvon Chouinard. "The groups these musicians are supporting are the ones that are ultimately going to save the planet."