Late J.P. Toulon Saluted at Old Skull's Former Headquarters
November 23, 2010 (6:40 am) GMT
Following the death of the pre-teen punk phenomenon on November 13, fans and friends paid their tributes to the late star at his group's former headquarters in New York on November 21.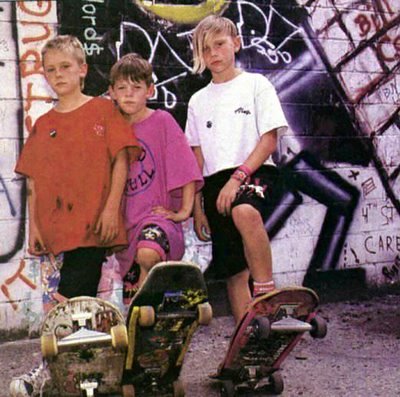 Pre-teen punk phenomenon J.P. Toulon was saluted by fans and friends at his group Old Skull's former headquarters in New York on Sunday, November 21 following his mysterious November 13 death. Toulon was just nine when he formed the band that would become Old Skull with his brother Jamie in 1989.

The brothers' debut album, "Get Outta School", was an immediate underground success and the young act became a college breakout act. Old Skull hit the road with Restless Records labelmates The Flaming Lips and Sonic Youth and followed up their debut with another cult hit, "C.I.A Drug Fest", in 1992.

The band split up in 1993 and the Toulon brothers faced a double tragedy when their divorced parents died while they were still teenagers. The group reformed in 2005 to support the Exploited at CBGB's in New York.

Toulon served jail time in his native Madison, Wisconsin earlier this year before entering a drug rehab facility. Reports suggest J.P. was winning his battle with addiction at the time of his death, the cause of which is still unknown.