'Spider-Man' Musical Makes No Changes Despite Safety Checks
November 15, 2010 (3:41 am) GMT
Director Julie Taymor says, 'We may need a little bit of an underscore to cover a move, or a small transition that needs to be smoothed.'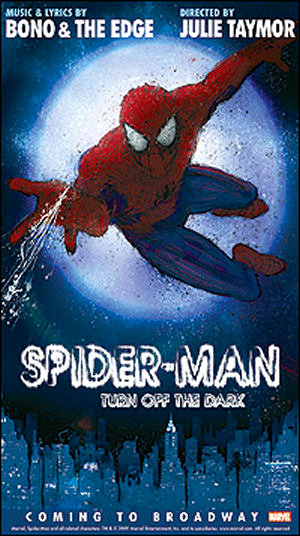 The director of the much-delayed "Spider-Man" musical is adamant rounds of vigorous safety checks have not had a detrimental effect on the production - insisting there are "no changes to the actual show". "Spider-Man: Turn off the Dark" has suffered numerous delays as producers fight to open the show on Broadway and the launch date was recently pushed back until January to allow safety inspectors time to thoroughly assess the aerial stunts.

Director Julie Taymor was rumored to have been forced to make a number of changes to ensure the production passed the inspection, but she's adamant the small tweaks will not compromise the superhero spectacle. She tells Showbiz 411, "There are no changes coming to the actual show. All the changes have to do with technical things. The flying, of course. But also all the wires, and the changes between scenes. We may need a little bit of an underscore to cover a move, or a small transition that needs to be smoothed."

And Taymor is urging critics to stop being so negative about the show, because "Spider-Man: Turn off the Dark" will provide a number of jobs and give Broadway a major boost when it opens next year. She adds, "This is a time of terrible unemployment. We have around 200 people involved in this, being paid every week. Do we really want to see them lose their jobs? It's unbelievable."


More Spider-Man News