Jeff Goldblum and Biz Markie Made Impromptu Duet on Jimmy Fallon Show
November 13, 2010 (4:56 am) GMT
Challenged by the host to show off his piano skills, Goldblum asked Markie to join for 'Just a Friend' performance with him on vocals.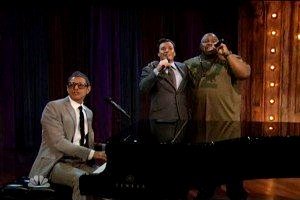 Jeff Goldblum and Biz Markie gave U.S. TV audiences a late night laugh on Thursday, November 11, with an impromptu duet of the rapper's comedic hip-hop song "Just a Friend". The Fly actor appeared as an interviewee on "Late Night with Jimmy Fallon", while the hip-hop star was a guest performer with house band The Roots.

And Goldblum rose to the challenge when comedian Jimmy Fallon suddenly asked him to show off his piano skills for a surprise track with Markie on vocals. Goldblum said, "If it's OK with Biz Markie. It would be a great honor for me if it was OK with you."

The actor then took the stage, tinkling the ivories while delivering lounge vocals to the 1989 tune, sending the studio audience into an uproar. And the crowd went wild when Markie stepped up to the mic, adding his famous wails to his hit track.