Shelley Malil's Stabbing Victim: I Will Live With These Scars for the Rest of My Life
September 18, 2010 (7:16 am) GMT
Although the star has been convicted of attempted murder, Kendra Beebe says, 'Every day I look in the mirror and I see the scar on my chin and the scar on my neck.'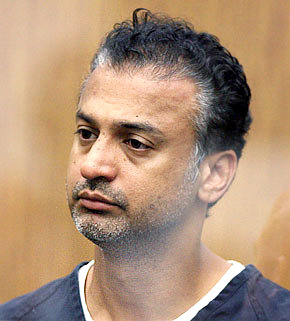 Shelley Malil's ex-girlfriend will forever be traumatized by the vicious stabbing she endured at the hands of "The 40 Year-Old Virgin" star because she is reminded of the horror whenever she looks in the mirror. Malil was convicted of attempted murder on Thursday, September 16 after a three-week trial, during which he testified he never intended to hurt Kendra Beebe and was acting in self defense in 2008 when he lashed out in the dark, stabbing her more than 20 times.

He told the jury at California's San Diego County Court that he thought he was being attacked from behind following a brawl with Beebe's pal David Maldonado. He was also found guilty on a charge of assault with a deadly weapon.

Beebe broke down in tears when the verdict was read out on Thursday but she insists her relief at the trial outcome will do little to help her put the terrifying incident behind her. She says, "Every day I look in the mirror and I see the scar on my chin and the scar on my neck. I will live with this for the rest of my life."

Malil faces between 21 years and life in prison when he is sentenced on November 18.