New Set Photos of 'Love Actually' Short Film Reveal the Man Chosen by Keira Knightley's Juliet
March 10, 2017 (9:12 am) GMT
One of the photos shared by script editor Emma Freud sees Knightley's Juliet wearing pajamas and sitting next to Ejiofor's Peter, revealing that Juliet keeps staying by her husband's side all along.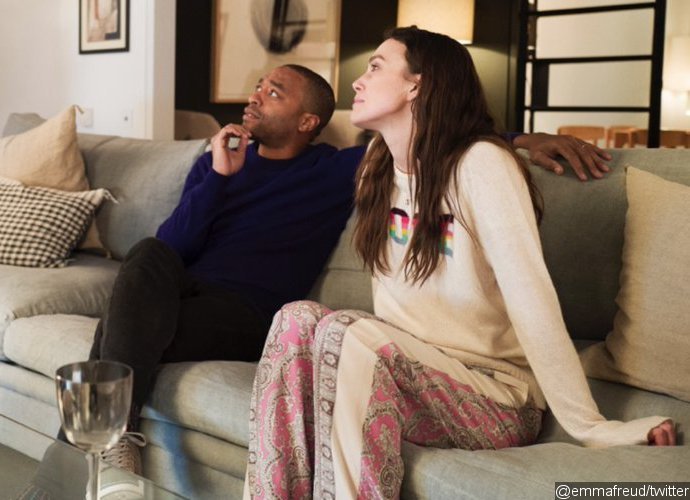 New set photos from "Love Actually" special short film have been released by script editor Emma Freud via her Twitter account. The photos answer the big question about who Keira Knightley's Juliet chose to be with after the events in 2003's "Love Actually".

We know that Knightley's Juliet married Chiwetel Ejiofor's Peter in the original movie. At the end of the movie, though, Peter's best friend Mark (Andrew Lincoln) visited Juliet's house and confessed his love to her by showing emotional placards. When Mark left Juliet's house, Juliet ran down the street and kissed him before returning to her husband. This scene sparked questions about which of the men whom Juliet actually chose at the end of the movie.

However, the photos shared by Freud reveal that Juliet has a happy married life with Peter all along, unwavered by Mark's confession. One of the photos features Knightley's Juliet wearing cozy pajamas and sitting next to Ejiofor's Peter on their couch. Another photo sees Mark bringing a pile of placards with his thoughts written on it, suggesting that he hasn't changed since the last time we saw him in the original movie.


Last night, our last night on #rednosedayactually. Marital bliss, the best pyjama bottoms I've ever seen, and major #jerseyenvy #shallow pic.twitter.com/Zk8bDkCrYn

— emma freud (@emmafreud) March 8, 2017
It was 13 years ago. There is more facial hair now. But he still loves her.... #rednosedayactually pic.twitter.com/0Zhz341Jj4

— emma freud (@emmafreud) March 8, 2017
The short film titled "Red Nose Day Actually" is produced for the British charity Comic Relief. The movie will reunite the cast members from the original film and follow their lives 14 years after the events in "Love Actually". Also returning to the short film are
Hugh Grant
,
Martine McCutcheon
,
Colin Firth
, Lucia Moniz,
Liam Neeson
, Thomas Brodie-Sangster, Olivia Olson,
Bill Nighy
, Marcus Brigstocke and
Rowan Atkinson
. The movie is set to air on Red Nose Day on March 24 in the U.K and on May 25 in the U.S on NBC.