Steve-O Facing Investigation for Sea World Prank
August 23, 2014 (4:32 am) GMT
The 'Jackass' star is being investigated for defacing public property after he posted a video of him plastering a poster to a sign so that it read, 'Sea World sucks.'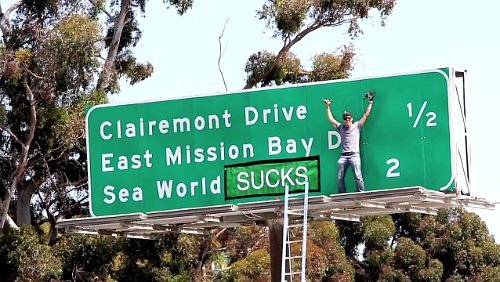 The California Highway Patrol is conducting an investigation into comedian Steve-O's Sea World prank. The "Jackass" star has been accused of defacing public property after he uploaded a video of him plastering a poster to a San Diego-area freeway sign so that it read, "Sea World sucks."

"We consider defacing public property at a cost to state taxpayers an unlawful act and a dangerous distraction for motorists. Not figured into the equation is the danger to highway workers and the inconvenience to motorists," read a statement by a rep for California Dept. of Transportation. Steve apparently shrugs off the potential legal trouble. He told TMZ, "Go ahead and charge me, Sea World Sucks!"

Steve is one of many people who condemned Sea World's treatment to its orcas or killer whales. The "Sea World suck" sign made headlines back in May.

On Wednesday, August 20, Steve confessed that he was the one who did the act by posting a video called "Breaking the Law" on YouTube. "I'm putting my foot down for Shamu," he said, referring to one of Sea World's killer whales. "If doing that was wrong, I don't want to be right; screw you Sea World!"