June 30, 2014, 8:54 am GMT
A photo of the 'American Hustle' star, who poses for a snap alongside the musicians, is shared on Instagram by Gallagher's partner Sara Macdonald.
---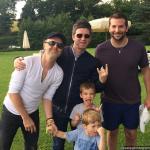 went to 2014 Glastonbury Festival at Worthy Farm in Glastonbury, England without his girlfriend , but he was not alone as he hung out with some musician friends at the annual music festival. The "" star posed with 's member Lars Ulrich and Noel Gallagher in a photo posted by the member's girlfriend Sara Macdonald on her Instagram on Sunday, June 29.

The actor wore a simple brown top and dark blue shorts in the snap. He was all-smiles as he held a hat in his hand. "Rawwwwwwk! Ulrich, Gallagher, Cooper!" the caption read. His girlfriend, who was unable to go to the festival, uploaded of her and others from a previous visit. She wrote on Instagram, "#GLASTONBURY reminiscing. So sad I'm not going this year.. rave on beautiful ravers!!!!!!"

Cooper and Ulrich are close friends. The Metallica drummer told the Huffington Post U.K. in 2013, "He actually flies and comes and sees us play if he's got a day off. Like, 'Where are you playing a gig?' And he'll jump on a plane and bring his lady and hang out."

Cooper made his way to the event by a helicopter with Metallica on Friday. The "" star told BBC that he was excited about and 's sets. He was also spotted watching the heavy metal band's performance in the front row on Saturday. Many lucky fans posed together with the Oscar-nominated actor at the festival.