June 17, 2014, 7:20 am GMT
The 'Rookie Blue' actress shares news of her wedding to Levi in a Twitter post, sharing a photo of them wearing matching Mr. and Mrs. hoodies.
---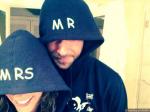 and his girlfriend , who keep their personal lives private, have quietly got married. The Andy McNally depicter on ABC's "" shares news of their wedding in a Twitter post on Monday, June 16. She attached a photo of her and the "" actor wearing a matching Mr. and Mrs. hoodies to the post.

"That coffee date was UNREAL @zacharylevi #marriedinmaui," she captioned the photo. Her husband quoted her tweet and added a comment, "These dreams and goals are really workin out."

"" star Joel David Moore also tweeted his congratulatory message on Monday. "Congrats to @ZacharyLevi and @mperegrym on their stunning wedding and beautiful future. Couldn't be happier for my brother & my new sis pal," he wrote. "Furthermore, I'm exhausted and terrible with secrets. So from all the boys, thanks for lifting the veil. #punintended," he added in another post, adding a photo of the groomsmen.

On Thursday, June 12, Levi, Moore and some friends were enjoying their time on the beach. The 33-year-old actor was seen going shirtless as he walked on the sand.