Celebrities React to Juan Pablo Galavis' Shocking Decision on 'The Bachelor' Finale
March 12, 2014 (1:53 am) GMT
Sarah Hyland tweets, 'I knew from day 1. I HATE #JuanPablo sooo much. I feel awful for every girl, including the one with the final rose,' while Sean Lowe writes, 'This is painful to watch.'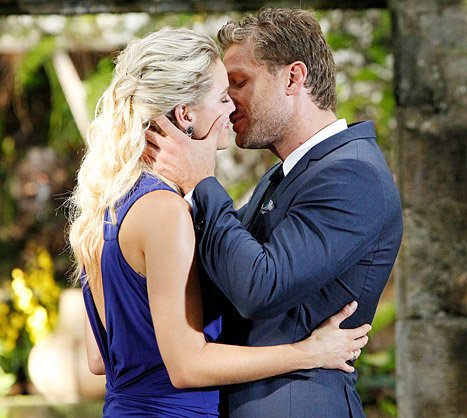 Juan Pablo Galavis may have affirmed his title as the worst Bachelor ever following his shocking decision on "The Bachelor" season 18 finale aired on Monday night, March 10. The 32-year-old single father chose Nikki Ferrell over Clare Crawley, but he wasn't ready to propose to her and wouldn't say "I love you" even in the "After the Final Rose" special which was filmed weeks after the finale.

Celebrities, including former "The Bachelor" and "The Bachelorette" stars, have taken to Twitter to comment on this. "Modern Family" actress Sarah Hyland publicly said that she hated the former pro soccer player, tweeting, "I knew from day 1. I HATE #JuanPablo sooo much. I feel awful for every girl, including the one with the final rose."

Singer/actress Haylie Duff was surprised with the outcome too, writing, "Wait, what?! So many thoughts... #Bachelor #FinalRose." Jason Biggs chimed in, "So . . . He basically mentioned his daughter and played a f**king song on his iPod and she's back in?? #TheBachelor."

Former Bachelorette Jillian Harris said, "Ugh. I don't even know what to think about that #bachelor finale. My heart hurts a little for everyone on that season right now." Ashley Hebert, who has been married to J.P. Rosenbaum, wrote, "I'm so shocked over this all, I'm tweetless. #TheBachelor."

Tenley Molzahn, former "The Bachelor" and "Bachelor Pad" contestant, shared her thought, "For the record, I'm not upset about no proposal, in fact, I respect that as they still have tons to get to know about one another, BUT Juan Pablo just did not show any respect tonight, especially towards the people that have walked this very unique & exciting experience with him for several months. Whoa. This was the weirdest ?#Bachelor? ever!"

Sean Lowe and his wife Catherine Giudici simply wrote, "This is painful to watch. #TheBachelor."

Meanwhile, some other sympathize with Clare, who was offended by what Juan Pablo said to her during their final date. It has just been revealed that the Venezuelan-born hunk said, "I loved f**king you," in response to Clare who said, "Just tell me you love me."

Ali Fedotowsky reacted, "Whoaa! I'm shocked by what Juan Pablo said to Claire. Hold your head high Claire. I respect the way you handled that #Bachelor." Trista Sutter posted a similar message. "I've loved @Clare_Crawley all season. Tonight solidifies that love, & respect. Heartbreak sucks but I KNOW better things are in her future!!"