George R.R. Martin Dishes on 'Game of Thrones' Purple Wedding
October 2, 2013 (9:05 am) GMT
The author of 'A Song of Ice and Fire' book series says the wedding scenes 'look spectacular,' gushing that it will be 'as memorable in its own way as our wedding last season.'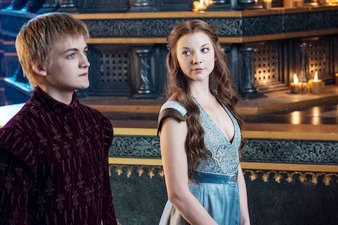 Another big wedding is coming in season 4 of "Game of Thrones". Following the tragic Red Wedding in season 3, the show will next hold a Purple Wedding for King Joffrey Baratheon and Margaery Tyrell.

Speaking to TV Guide, executive producer and books author George R.R. Martin promises that it will be "as memorable in its own way as our wedding last season." He gushes, "It's going to be the wedding of the year."

Claiming that the wedding scenes "look spectacular," he goes on sharing the details, "The bride's dress incorporates roses, there are 77 courses at the dinner feast, and there's some wonderful halftime entertainment."

Of the moniker for the nuptials, Martin explains, "It's what the fans call the Purple Wedding, based on the color of the wine, which plays a big part."

"Game of Thrones" season 4 is currently in production in several filming locations, including Belfast, Croatia and Iceland. Pedro Pascal joins the cast as Prince Oberyn Martell a.k.a. Red Viper, Indira Varma stars as Red Viper's love interest, Mark Gatiss is Tycho Nestoris, and Joel Fry plays Hizdahr zo Loraq who crosses paths with Daenerys Targaryen.


More Game of Thrones News