Tilda Swinton Posing for W Magazine With Centipede Eyebrows and Mustaches
April 19, 2013 (7:15 am) GMT
The 'Moonrise Kingdom' actress says she 'waited hours for these centipedes to crawl into their meaningful positions, decking me out with eyebrows and mustaches.'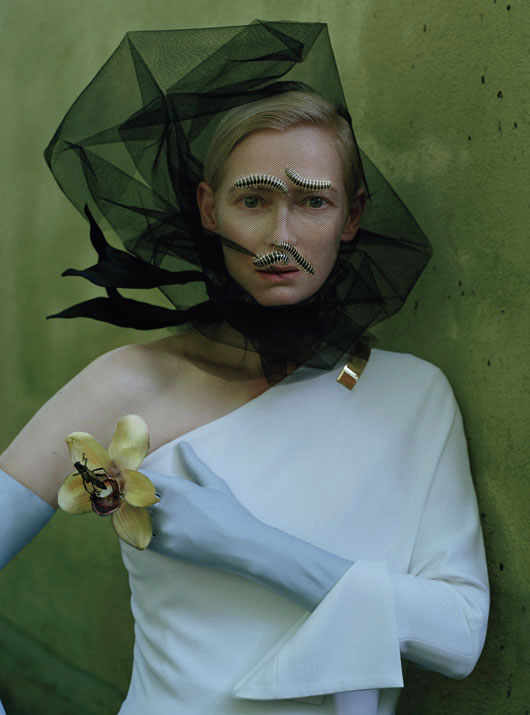 Tilda Swinton, who recently raised eyebrows with her sleep-in-glass-box performance at a museum, shows off her "totally surreal fashion adventure" in W Magazine's latest issue. Among the many pictures taken for the printed publication, one stands out more than the others, thanks to her unusual accessories.

The "Moonrise Kingdom" actress has some creepy centipedes crawling on her face as she strikes a statuette pose. One centipede covers each of her eyebrows, and two others are taking up residence above her lips. Wearing a white Givenchy by Riccardo Tisci dress and Cornelia James gloves, she holds a yellow orchid in one hand.

"Though they may look as if they were mechanically placed, we waited hours for these centipedes to crawl into their meaningful positions, decking me out with eyebrows and mustaches," 52-year-old Swinton explains her bizarre look. " 'Ceci n'est pas une moustache,' as Magritte might have put it."