Blake Shelton Gave 'No Taylor Swift Joke' Advice to Luke Bryan Before 2013 ACM Awards
April 8, 2013 (9:01 am) GMT
The Bluke avoid making a joke about the 'Red' singer out of fear to be on the receiving end of 'the onslaught of hatred that will come from Taylor Swift's fan base.'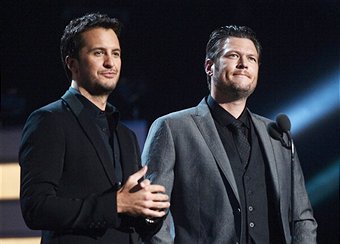 The reason why Blake Shelton and Luke Bryan played it safe when hosting the 48th annual Academy of Country Music Awards Sunday night, April 7 was explained. Turned out Shelton had banned any jokes that targeted Taylor Swift before the show started.

"I would tell him [Luke] to be prepared for the onslaught of hatred that will come from Taylor Swift's fan base if you say any sort of a joke or if she's any part of a punch line in the monologue," Shelton told the Associated Press when asked to give any advice to first-time host Bryan. "By the way, you're getting all those jokes this year," he added.

Instead, the "Bluke" duo took jabs at each other's manhood during the monologue. Carrie Underwood even covered her mother's ears during the X-rated joke. The hosts also performed with Shelton's wife Miranda Lambert, Brad Paisley and Sheryl Crow.

Unfortunately, Swift left empty-handed that night. She received at least five nominations but won none. She lost Video of the Year to Little Big Town, Album of the Year to Eric Church, Female Vocalist of the Year to Lambert, and Entertainer of the Year to Bryan.


More Blake Shelton News