Michelle Shocked Clarifies Anti-Gay Outburst, Says She Was Misunderstood
March 21, 2013 (2:19 am) GMT
Shocked says, 'If I could repeat the evening, I would make a clearer distinction between a set of beliefs I abhor, and my human sympathy for the folks who hold them.'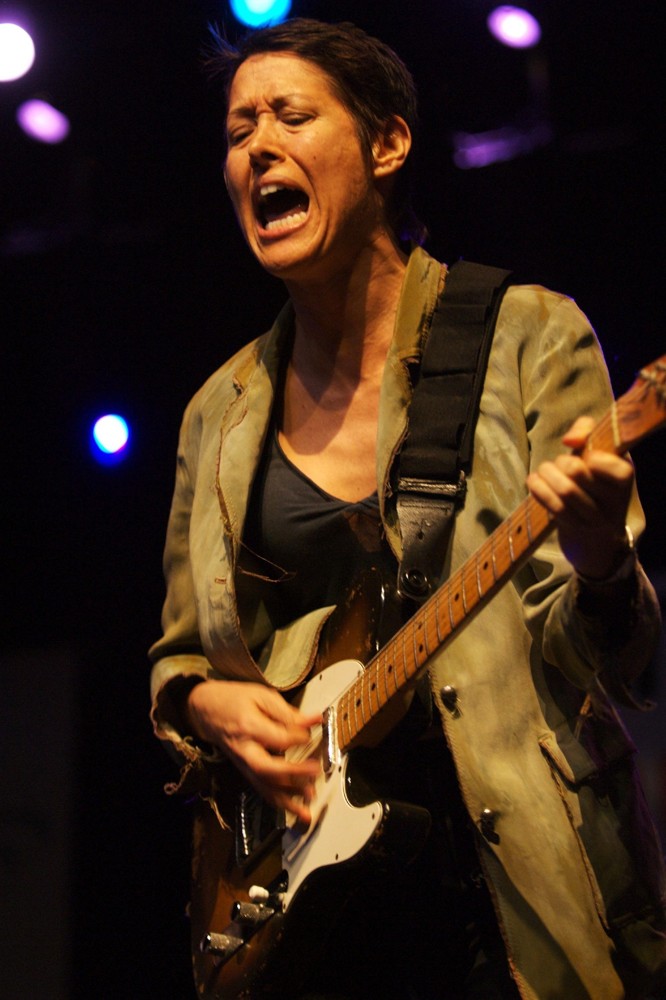 Michelle Shocked is trying to do damage control after her anti-gay rants at Yoshi's left her with no tour. Many venues where she was set to play have cancelled her upcoming performance, leaving her with only one scheduled gig at Harmony Bar in Madison, Wisconsin.

She was rumored saying at her show, "When they stop Prop 8 and force priests at gunpoint to marry gays, it will be the downfall of civilization," "I live in fear that the world will be destroyed if gays are allowed to marry," and "You are going to leave here and tell people, 'Michelle Shocked said God hates f*****s'."

In a statement to the press, the Grammy-nominated folk singer vehemently insists she was misinterpreted and regrets not giving clearer message. "I do not, nor have I ever, said or believed that God hates homosexuals (or anyone else). I said that some of His followers believe that," she states.

"When I said... 'Michelle Shocked says God hates f**s,' I was predicting the absurd way my description of, my apology for, the intolerant would no doubt be misinterpreted, but I am damn sorry," she adds. "If I could repeat the evening, I would make a clearer distinction between a set of beliefs I abhor, and my human sympathy for the folks who hold them."

On the same day Shocked issues an apology, an audio of her rant hits the web. Her concert was reportedly shut down after the management heard her impromptu speech. When the 51-year-old performer insisted on finishing the show, her mic was allegedly cut off and the lights were turned off.

"This was Michelle Shock's third visit to Yoshi's San Francisco; her first was March 2009. She has never given any indication that she is anti-gay or racist in her previous plays. She obviously has some serious issues and unfortunately chose our venue to vent them," Derek Hunter, Yoshi's artistic director, said.

The club followed it with another message on Twitter, "We at Yoshi's SF do not & will not ever tolerate the type of bigotry & hatred exhibited last night by @MShocked. She will never be back."

Other venues like the Hopmonk Tavern in nearby Novato and eTown Hall did the same, pulling the plug on her March 29 and May shows respectively. It snowballed into mass cancellation as clubs in such towns as Santa Cruz and Evanston, as well as Telluride Bluegrass Festival in Colorado.

Club SPACE in Evanston said, "Many of you have reached out already following an ugly rant given by Michelle Shocked at her show in San Francisco last night. After speaking with the promoter of that show about the nature of the remarks, it's clear that this is no longer a show we're willing to put our name on."