January 27, 2013, 8:21 am GMT
The Ryan Coogler-directed movie and the Steve Hoover-directed documentary win both Grand Jury Prize and Audience Award.
---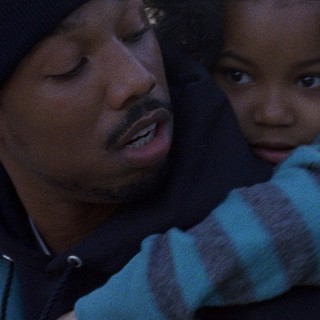 The winner list at this year's Sundance Film festival is dominated by "Fruitvale" and "Blood Brother". The two movies claim double victory each at the event hosted by . Other winners include actresses and .

"Fruitvale", a movie based on a true story of 22-year-old Oscar Grant who was gun down by police in Oakland, California, on New Year's Day of 2009, is picked as a winner of Grand Jury Prize and Audience Award for U.S. and World Cinema Dramatic. It's praised for its "moral and social urgency."

The movie stars , who won Oscar for her role in "" last year, and (""). Produced by , it's directed by 26-year-old first-time filmmaker Ryan Coogler. The Weinstein Company recently acquired distribution rights for the film.

"For anyone out there who thinks for one second that movies don't matter and can't make a difference in the world," says juror Tom Rothman when presenting the grand jury prize. "Please welcome - this will not be the last time you guys walk to a podium - Fruitvale."

"This film had a profound impact on the audience that saw it ... this award goes out to my home in the Bay Area where Oscar Grant breathed, slept, loved, had fun and survived for 22 years," Coogler says in his acceptance speech after receiving the award from the former chairman of 20th Century Fox.

Steve Hoover's "Blood Brother" that tells an inspirational story of activist Rocky Braat who worked as a volunteer in an Indian orphanage to help HIV-infected children wins Grand Jury Prize and Audience Award for U.S. and World Cinema Documentary.

"It is so encouraging for the kids ... their lives are so encouraging, and they die and no one remembers their name ... To take their story so that everyone sees it, it's so awesome," Hoover noted.

21-year-old Woodley, who was lauded for her performance in "" last year, took home Special Jury acting prize along with for their roles in "". Bell was also triumphant as she grabbed the drama screenwriting award for her work in quirky comedy "" which marks her directorial debut.
Grand Jury Prize - U.S. Dramatic: "Fruitvale" directed by Ryan Coogler
Grand Jury Prize - U.S. Documentary: "Blood Brother" directed by Steve Hoover
Grand Jury Prize - World Cinema Dramatic: "Jiseul" (South Korea) directed by Muel O
Grand Jury Prize - World Cinema Documentary: "A River Changes Course" (Cambodia/U.S.) directed by Kalyanee Mam
Audience Award - U.S. Dramatic: "Fruitvale" directed by Ryan Coogler
Audience Award - U.S. Documentary: "Blood Brother" directed by Steve Hoover
Audience Award - World Cinema Dramatic: "Metro Manila" (UK/Philippines) directed by Sean Ellis
Audience Award - World Cinema Documentary: "The Square" (Egypt/USA) directed by Jehane Noujaim
Audience Award - Best of Next: "This Is Martin Bonner" directed by Chad Hartigan
Audience Award - Short Film: "Catnip: Egress to Oblivion?" directed by Jason Willis
Directing Award - U.S. Dramatic: Jill Soloway, "Afternoon Delight"
Directing Award - U.S. Documentary: Zachary Heinzerling, "Cutie and the Boxer"
Directing Award - World Cinema Dramatic: Sebastian Silva, "Crystal Fairy" (Chile)
Directing Award - World Cinema Documentary: Tinatin Gurchiani, "The Machine Which Makes Everything Disappear" (Georgia/Germany)
Waldo Salt Screenwriting Award - U.S. Dramatic: , ""
Screenwriting Award - World Cinema Dramatic: Barmak Akram, "Wajma (An Afghan Love Story)"
Editing - U.S. Documentary: Matthew Hamachek, "Gideon��s Army"
Editing - World Cinema Documentary: Ben Stark, "The Summit" (Ireland)
Cinematography Award - U.S. Dramatic: Bradford Young, "Ain't Them Bodies Saints" and "Mother of George"
Cinematography Award - U.S. Documentary: Richard Rowley, "Dirty Wars"
Cinematography Award - World Cinema Dramatic: Michal Englert, "Lasting (Nieulotne)" (Poland)
Cinematography Award - World Cinema Documentary: Marc Silver and Pau Esteve Birba, "Who Is Dayani Cristal?" (UK/Mexico)
Special Jury Prize - U.S. Dramatic: (acting) and , ""; (sound design) Shane Carruth and Johnny Marshall, "Upstream Color"
Special Jury Prize - U.S. Documentary: "Inequality for All", Jacob Kornbluth; "American Promise", Joe Brewster and Michele Stephenson
Special Jury Prize - World Cinema Dramatic: "Circles (Krugovi)" (Serbia), Srban Golubovic
Special Jury Prize - World Cinema Documentary: "Pussy Riot: A Punk Prayer" (Russian Federation/UK), Mike Lerner and Maxim Pozdorovkin
Alfred P. Sloan Prize: "Computer Chess" directed by Andrew Bujaalski