Dee Snider Bans Paul Ryan From Using Twisted Sister's Song
August 23, 2012 (4:42 am) GMT
The Twisted Sister lead singer says in a statement, 'There is almost nothing on which I agree with Paul Ryan, except perhaps the use of the P90X.'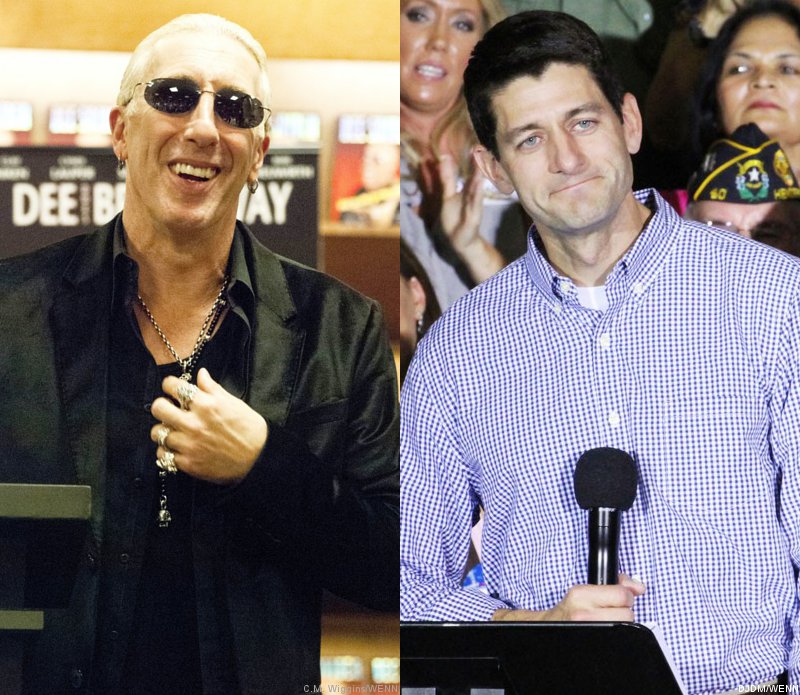 Dee Snider is furious when learning that the band's 1984 single "We're Not Gonna Take It" written by the rocker has been used by Paul Ryan in his political campaign to become the Vice President of the United States. The Twisted Sister frontman now forbids the politician from using any of his songs.

Snider does not support Ryan, so he issues a statement to Benjy Sarlin, campaign reporter for TPM in Washington, DC, "I emphatically denounce Paul Ryan's use of my song 'We're Not Gonna Take It' as recorded by my band Twisted Sister. There is almost nothing on which I agree with Paul Ryan, except perhaps the use of the P90X."

The GOP congressman, who becomes Mitt Romney's vice-president pick, complies with Dee's request. In response to the complaint, Ryan's spokesperson Brandon Buck says in a short email reply, "We're Not Gonna Play It anymore."

Previously, Ryan was slammed by Tom Morello, the member of his favorite band Rage Against the Machine. The guitarist claimed the congressman was clueless about the band because what he's campaigning for was against what they were promoting in their music. "He likes Rage's sound, but not the lyrics," Tom said.

Meanwhile, Ryan's political partner Romney was blasted by Silversun Pickups' lead singer Brian Aubert for allegedly using their single "Panic Switch" in a campaign event. Romney's rep Andrea Saul said they never intentionally played the song. It was just coincidentally played when they were setting up an event for the campaign.