Feminists Protest the Lack of Female Directors at Cannes Film Festival
May 22, 2012 (6:34 am) GMT
Responding to the issue, Cannes' artistic director claims that the films chosen to compete at the festival were picked 'without regard to race, color, sex, language, religion, political opinion.'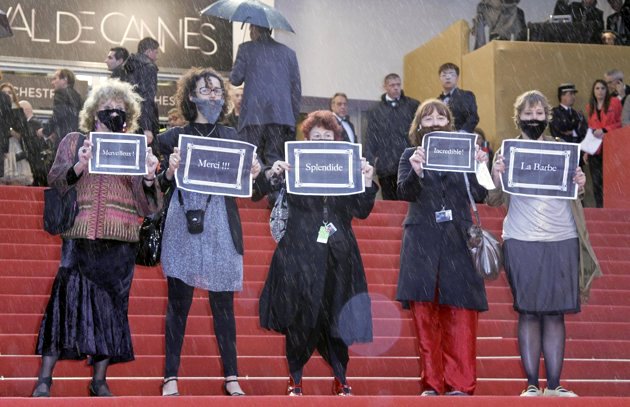 Not everyone is happy with world-class event like the 2012 Cannes Film Festival. Last Sunday, May 20, a group of French feminists interrupted the formal occasion by throwing a protest on the red carpet.

According to the Associated Press, those feminists were upset about the lack of female directors who take part at this year's Cannes. Around five women from La Barbe donned fake beards and stood on the red carpet during the special screening of Michael Haneke's "Amour".

Unfazed by the hard rain, they carried various signs that read, "Marveilleux," ''Merci!!!" ''Splendide," ''Incredible!" and "Le Barbe." It was said that they had already sent a petition to the festival organizers, complaining about the male-dominated festival line-up published in Le Monde and The Guardian newspapers.

The fact that none of the 22 movies competing for the Palme D'Or prize was helmed by a woman also spurred feminist protest in the United States. AP reported that there has been a petition signed by nearly 2,000 people, including feminist icon Gloria Steinhem and filmmaker Gillian Armstrong.

Regarding the issue, Cannes' artistic director, Thierry Fremaux, said that he didn't pick films based on who had made them. He added that those titles were chosen "without regard to race, color, sex, language, religion, political opinion" or any other external factor.

The 65th annual Cannes Film Festival takes place from May 16 to 27. Italian actor and filmmaker Nanni Moretti will preside over the jury.