Snooki and JWoww Facing Criticisms Over Dyed Dogs
March 23, 2012 (5:29 am) GMT
Commenting on JWoww's pink and purple canines, PETA's representative says, 'Our dogs and cats love us regardless of how we look; we should extend the same kindness to them.'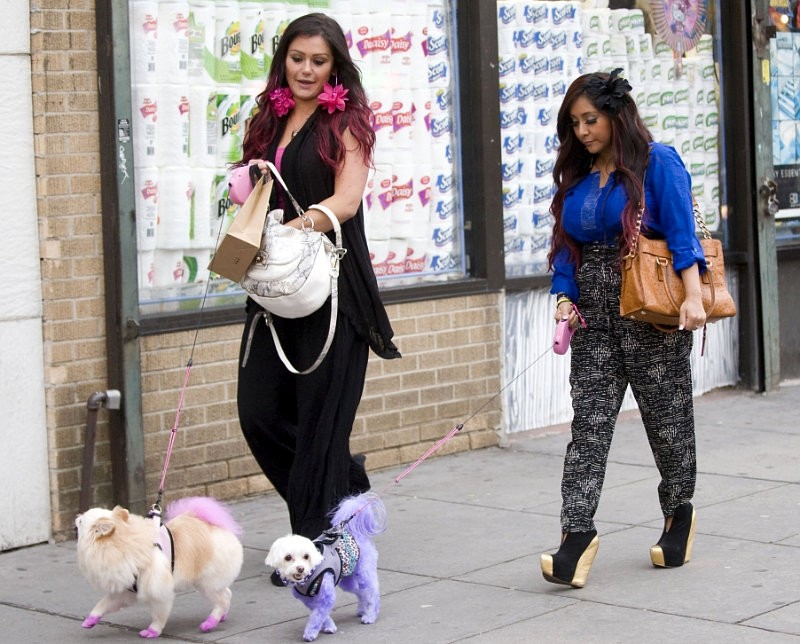 Two of "Jersey Shore" stars have landed in hot water because of dyed dogs. Snooki and JWoww were blasted by People for the Ethical Treatment of Animals (PETA) after they were spotted walking JWoww's pink and purple canines while filming their new reality show in Jersey City on Wednesday, March 21.

"Dyeing a companion animal's fur causes the animal stress and can lead to complications or allergic reactions that endanger the animal's health," a representative for the animal rights organization told Celebuzz. "Our dogs and cats love us regardless of how we look; we should extend the same kindness to them." None of the two reality stars have responded to PETA's statement.

In another news, Snooki is said to be keeping her vow to knock off the booze during her pregnancy. When vacationing in Cancun last week, the fiancee of Jionni LaValle opted to drink virgin Pina Coladas. Her spokeswoman Stacey Weschler told New York Daily News, "Pregnant women do take vacations, and she's having fun with her friends soaking up the sun with nonalcoholic drinks."