Justin Vernon Approves Justin Timberlake's Bon Iver Skit on 'SNL'
February 20, 2012 (9:00 am) GMT
Calling the parody hilarious, the lead singer jokingly tweets, 'I was red-face-embarrassed but laughing my a** off the whole time!'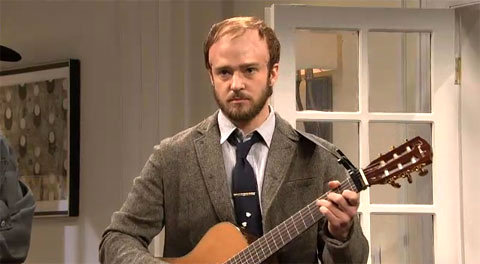 Justin Vernon gave his thumbs-up to "Saturday Night Live" skit which features Justin Timberlake impersonating Bon Iver. "Holy s**t, i was just watching SNL and JT did a Bon Iver hilarious thing!" the lead singer tweeted.

"Also, Maya Rudolph saying 'bon iver' is enough. I can die now!!!" He continued expressing his approval. "JT! SNL peeps... that was hilarious. Armisen as prince... Also, i WISH i looked that good bald. That was it... the most surreal thing! ever!"

He went on, "JT was playing that guitar part well! I was red-face-embarrassed but laughing my a** off the whole time! I'm by myself out here people!"

Timberlake dressed up as Vernon on the February 18 episode of "SNL". He came to visit Beyonce Knowles (Rudolph) and Jay-Z (Jay Pharoah). "Sorry I'm late, uh whatever," he said. "Just wandering barefoot in the woods of Wisconsin. I fashioned this guitar out of a canoe and I wrote a song for your baby."

Strumming his guitar, he then delivered a lullaby for Queen Bey and Jigga's baby daughter, Blue Ivy Carter. Instead of sending the infant into a peaceful dream, he put himself to sleep and was carried out of the room by Pharoah and Andy Samberg.