Nicki Minaj Aiming for Jay-Z's Seat on the Throne
February 16, 2012 (7:12 am) GMT
Recalling being congratulated by the Jiggaman for her success, Minaj says, 'I was like, 'Yeah, I'm coming for you. I'm coming for your spot, Mr. Mogul'.'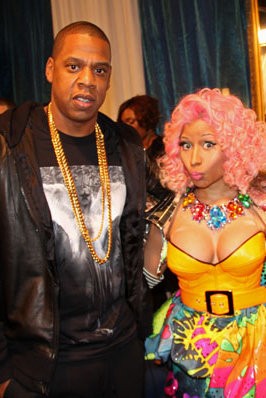 Already busting the charts and bagging multiple kudos, Nicki Minaj reveals what she sets her eyes on next. In an interview with Allure for its upcoming April issue, the female rapper says she wants to build a business empire that rivals her senior Jay-Z.

"I had a little conversation with Jay-Z at the Victoria's Secret fashion show," Minaj remembers about running into the rap mogul. "He said, 'Congratulations on all your success.' And I was like, 'Yeah, I'm coming for you. I'm coming for your spot, Mr. Mogul'."

Minaj is preparing to release her upcoming album "Pink Friday: Roman Reloaded", which is due in the United States on April 3. As for Jigga, he's working on something "crazy" with N.E.R.D's star Pharrell Williams.


More Nicki Minaj News