Angelina Jolie: My Bad Girl Side Belongs to Brad Pitt Now
November 23, 2011 (1:21 am) GMT
In an interview with '60 Minutes', the 'Tourist' star admits she's very lucky she didn't die young as explaining, 'People can imagine that I did the most dangerous and I did the worst.'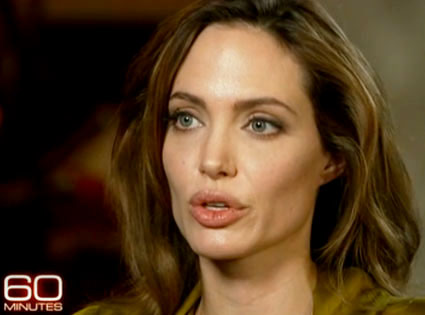 Despite being a mother of six and an international goodwill ambassador, Angelina Jolie hasn't completely gotten rid of her bad girl side. The actress, who is making her directorial and screenwriting debut "In the Land of Blood and Honey", recently reveals that she just keeps it between her and longtime partner Brad Pitt.

The 36-year-old revisits her wild past in an interview with "60 Minutes", which will air Sunday, November 27 night. Though admitting she finds herself lucky to still be alive, she tells correspondent Bob Simon, "I'm still a bad girl. I still have that side of me...It's just in its place now...it belongs to Brad. Or...our adventures."

In a short preview of the interview, Angie opens up, "I went through heavy, darker times and I survived them." She then thoughtfully shares, "I didn't die young, so I'm very lucky. There are other artists and people who didn't survive certain things."

Though refusing to offer more details, the Oscar winner does say, "I think people can imagine that I did the most dangerous and I did the worst - and for many reasons I shouldn't be here." She adds, "You think of those too many times where you came close to too many dangerous things, too many chances taken too far."




More Angelina Jolie News