Teen Bride Courtney Stodden and Hubby Score Reality Show About Family Issues
September 22, 2011 (5:05 am) GMT
The project will also cover the cyberbullying on Doug Hutchison's 17-year-old wife and 'show people what they can teach each other from different generations.'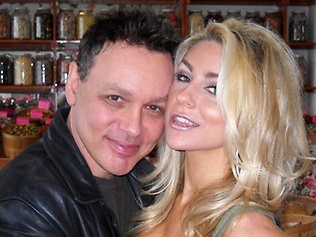 Courtney Alexis Stodden and Doug Hutchison, who made headlines with their controversial marriage, will share about their family issues to public on a reality show. The couple is set to work together with Merv Griffin Entertainment and Roy Bank on the TV project, which is yet to find a network.

"We are so thrilled that we are in business with Merv Griffin Entertainment and Roy Bank," Courtney and Doug said in a statement. "[Bank] is a delightful man, and we know the show is going to be successful." They refused to reveal the title of the show, which has not started filming yet.

Courtney's mom, Krista Keller, shared details of the reality show, saying that it is "going to show people what they can teach each other from different generations." She added, "They're going to touch on family issues. There was a lot of judgment about their marriage from Doug's side of the family, so it will touch on bringing families back together and why it's important to support family members even if you don't agree."

Additionally, 17-year-old Courtney, who is 35 years old younger than her "Lost" star hubby, will address the cyberbullying she claims to have been happening to her, as well as rumor of her getting plastic surgery. "Courtney having to prove to people she was real, that she's never been under a plastic surgeon's knife," Krista said.

Krista, who also manages aspiring music singer Courtney and actor Doug, revealed that all major networks have been showing interest in the pair. She believes the new show will have a great following, gushing, "Courtney is No. 1 in ratings for whatever she does."