New 'Breaking Dawn Part I' Posters: Edward and Bella Share Embrace, Jacob All Alone
September 9, 2011 (4:31 am) GMT
Set against a background of gorgeous sunset, these fresh one-sheets for the latest installment of the 'Twilight Saga' film series also feature a tagline that read, 'Forever is only the beginning.'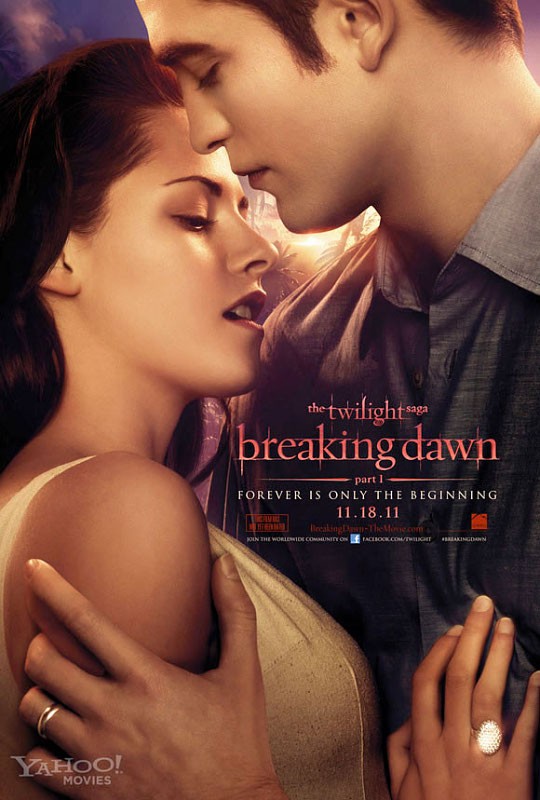 Two new teaser posters for "The Twilight Saga's Breaking Dawn Part I" have been unveiled via Yahoo! Movies. Both of the fresh one-sheets are set against the background of a gorgeous sunset and feature a tagline that read, "Forever is only the beginning."

The first poster gives a look at Edward Cullen and Bella Swan as they share a passionate embrace. Like a close-up shot poster released a day earlier, Bella has her wedding ring on. The second one-sheet, meanwhile, presents sad-looking Jacob Black who stands alone with a pack of wolves flocking the background.

Based on a novel series by Stephenie Meyer, "Breaking Dawn Part I" revolves around newlywed Edward and Bella who must face a perilous chain of events that pits the Cullens and their allies against the Volturi. Kristen Stewart, Robert Pattinson and Taylor Lautner return as Bella, Edward and Jacob respectively.

Summit Entertainment plan to premiere an exclusive trailer for this first part of two "Breaking Dawn" movies on Tuesday, September 13. The highly anticipated movie itself is slated to open in U.S. theaters on November 18 this year, while its follow-up "The Twilight Saga's Breaking Dawn Part II" is scheduled for November 16, 2012 release.