Middle-Aged Doug Hutchison and His Teen Wife Brush Off Controversy
June 21, 2011 (6:09 am) GMT
Through a spokesperson, the controversial newly-wed couple insists, 'We're very much in love and want to get the message out there that true love can be ageless.'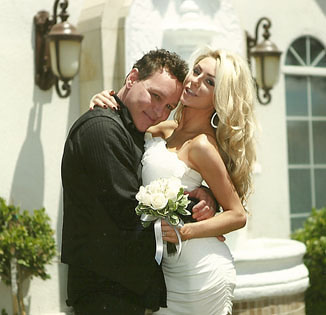 51-year-old "The Green Mile" actor Doug Hutchison believe that "true love can be ageless." The actor, who is also known for his role as Vadim in the "Days of Wrath", has made a headline as he decided to marry a very young aspiring country singer Courtney Alexis Stodden who is only 16 years old. The newlywed couple tied the knot on May 20 in Las Vegas.

Although their age difference sparks a public controversy, the twosome insisted that they have no problem with that. "We're aware that our vast age difference is extremely controversial," the couple said through a spokeswoman as quoted on E! Online. "But we're very much in love and want to get the message out there that true love can be ageless."

According to the Clark County, Nevada Marriage Bureau, marriage license applicants for both parties must be at least 18 years of age. Those who are below the age of 18 are able to obtain a licensee, but with a consent of a parent or legal guardian. In this case, Stodden's parents have to approve of their daughter's May-December marriage.

Hutchison's adolescent wife is a former beauty pageant queen who took part in the Miss Teen Washington USA in 2010. She's been pursuing her career to become the next big star from Nashville. However, she slammed the suggestion saying that marrying a much older D-list actor is one way to achieve fame by insisting that she and her husband are so in love with each other.