Harry, Ron and Hermione Enter Grimmauld Place in New 'Deathly Hallows' Photo
August 19, 2010 (9:14 am) GMT
Prior to release of the photo, Daniel Radcliffe has confirmed that 'Deathly Hallows: Part II' will begin as a 'heist movie and turns into this all-out war.'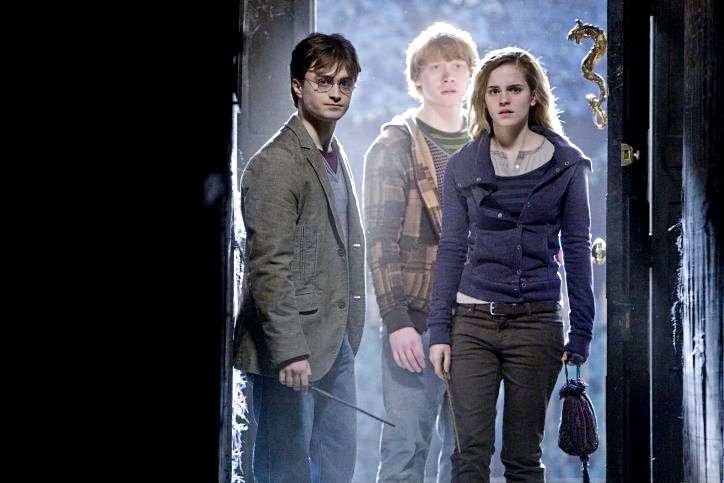 Another sneak peek to "Harry Potter and the Deathly Hallows" has once again been shared, this time in form of a new picture. Debuted by KansasCity.com, the image captures three main characters, Harry Potter, Hermione Granger and Ron Weasley, as they stand on the entrance of Number 12, Grimmauld Place.

A day before the photo comes out on August 18, Empire Online has published a new article about the film. It features an interview with Daniel Radcliffe who explains the difference between "Harry Potter and the Deathly Hallows: Part I" and "Harry Potter and the Deathly Hallows: Part II".

"The first one is a weird road movie kind of thing," the depicter of Harry explains. "Compared to the second part it's slower paced, but that's only relative. It's more of an exploration of the relationship between the characters. You see those friendships tested for the first time." As for the second one, he reveals, "The second one is this non-stop rollercoaster of battles and heists. It starts off as this heist movie and turns into this all-out war."

Serving as the latest installment of "Harry Potter" film series, "Harry Potter and the Deathly Hallows" will follow Harry Potter and his two best friends who set out on their perilous mission to track down and destroy the secret to Voldemort's immortality and destruction, the Horcruxes. Directed by David Yates, the first part is due November 19 in both U.S. and U.K. while the second one is set for July 15, 2011 release.