July 9, 2010, 9:32 am GMT
Following the arrival of 'Ordinary Girl', all theme songs from the Miley Cyrus-starring TV series now can be found everywhere on the web.
---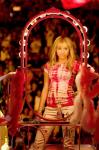 Days shy of its season 4 premiere, it looks like that the entire soundtracks from "" upcoming season have made their way out. The leaked songs include the ones which have teaming up with , and .

Retitled "Hannah Montana Forever", the Disney Channel series will kick off the fourth and final season this coming Sunday, July 11 with "Sweet Home Hannah Montana". This episode will follow the Stewarts as they move onto a new ranch home.

When the fourth season ends, "Hannah Montana" will not be renewed for another season because lead actress Miley Cyrus wants to move on from the child show. The teen singer wants to show off her more mature side and marks it with the release of "". During the promotion of the album, she often delivers raunchy acts.

A possible tracklisting for "Hannah Montana Forever" album:
"Are You Ready"
"Kiss It Goodbye"
"Que Sera"
"Need a Little Love" feat.
"Barefoot Cinderella"
"Ordinary Girl"
"Been Here All Along"
"This Boy, That Girl" feat.
"I'm Still Good"
"I'll Always Remember You"
"Wherever I Go" feat.