April 28, 2010, 7:48 am GMT
'The Final Jam' will debut quite late in the summer after Jonas Brothers and Demi Lovato half finish the road show to promote the TV movie.
---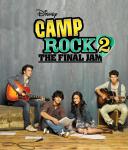 Disney Channel is ready to announce the specific date of "" premiere. The TV movie which is the sequel to "" will air for the first time on Friday, September 3 at 8/7c.

Long before fans can watch the movie, a soundtrack album and a tour with "Camp Rock" theme will be available first. The compilation of songs in "Camp Rock 2" is on sale July 27. Containing 15 songs including "We Can't Back Down" which has been teased earlier this week, the album will range in sounds from Hip-Hop to rock to pop.

Then the cast such as , , and Anna Maria Perez de Tagle will bring the music to the street in that begins July 27 in Dallas, TX.

"Camp Rock 2" revolves around the music camp's rivalry with neighboring Camp Star. Shane Gray and his friends are shocked when they learn that many of their members and instructors have moved over to the rival camp. Meanwhile, not only the romance between Shane and Mitchie will be highlighted in this sequel but also Nick's and Dana's ().

"The storyline is really great," revealed. "They built a camp for the movie, and they blocked off a whole mile radius so that people couldn't really find out what the movie was about. It was a really fun experience, and everyone really kept it under wraps. The director was the one who kind of leaked pictures on his Facebook ... of all the people!"