Top 10 Good Monsters
March 25, 2009 (9:51 am) GMT
AceShowbiz draws together a top ten list of good monsters from the green superhero in 'The Incredible Hulk' to gentle bigfoot in 'Harry and the Hendersons'.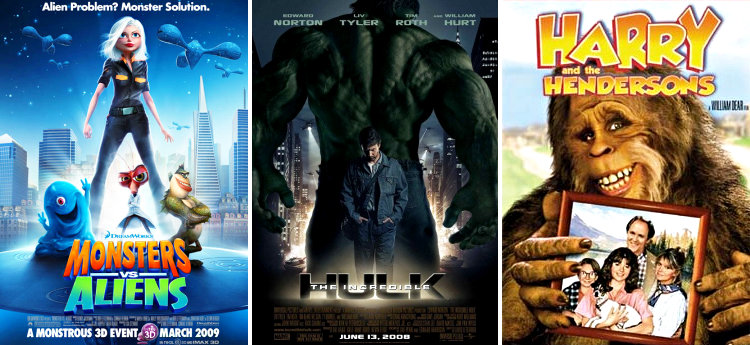 Monsters, they are often portrayed as hideous and evil creatures that would scare the hell out of children and some grown-ups too. But, not all monsters are evil or exceptionally grotesque and uncaring. Some of them are actually misunderstood, others are friendly and a few may even tickle your funny bones.

As people tend to enjoy seeing misfit beings becoming heroes, many Hollywood movies present new breed of monsters, ones who go against their nature and have some good left in them. Celebrating the upcoming "Monsters vs. Aliens", AceShowbiz compiles a top ten list of good monsters seen in feature films throughout the years.


#10 Gizmo in "Gremlins"
#9 Swamp Thing in "Swamp Thing"
#8 Beast in "Beauty and the Beast"
#7 Eva in "Igor"
Igor", she achieves what she's always been dreaming of, becoming an actress.
#6 Pikachu in "Pokemon the Movie"
#5 Harry in "Harry and the Hendersons"
#4 Hulk in "The Incredible Hulk"
The Incredible Hulk", this green monster still has his humane side amidst his rage as he uses his body as a shield to protect former lover Betty from the military crossfire. He also chooses to battle The Abomination to save the world that has turned its face against him.
#3 Mike and Sully in "Monsters, Inc."
Monsters, Inc.", it can be seen how they do whatever they can to return human child named Boo to the human world without harming the kid, hiding her away from the real monster, Randall.
#2 Shrek in "Shrek"
Mike Myers is merely an ogre who seeks to live peacefully in his swamp. When his peace is disrupted by the arrival of talkative Donkey, he does not scare him off with his cruelty. Instead, he decides to travel the country to see Lord Farquaad and asks him to return his privacy, which leads him being ordered to rescue Princess Fiona.
#1 The Monsters Crew in "Monsters vs. Aliens"