2008 San Diego Comic Con Wrap Up (Part 2/2)
July 28, 2008 (6:53 am) GMT
Giving an update to the previous recap report of the 2008 San Diego Comic Con, Aceshowbiz summed up the final two days of the special event below.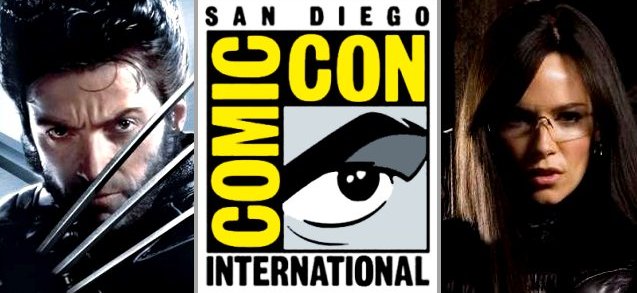 With the 2008 San Diego Comic Con wrapping up on Sunday, July 27, more and more news as well as posters and footages about upcoming feature films were pouring out. The last two days of the special event (July 26 & July 27) were filled with posters from "Watchmen" to updated report from "G.I. Joe: Rise of Cobra".

Providing a follow-up report to the previous San Diego Comic Con Wrap Up, Aceshowbiz let out the recap of these final two days at the Comic Con.


"Watchmen" Character Posters
Hypening the expectation of Zack Snyder-directed "
Watchmen
", DC Comics present eight new posters of the Alan Moore and Dave Gibbons' comic book adaptation. The posters expose both Silk Spectre, Laurie Juspeczyk and Sally Jupiter, Rorschach, Comedian, Dr. Manhattan, Nite Owl and Ozymandias. All of the new character posters can be seen below.








"G.I. Joe: Rise of Cobra" Details Shared
Bringing in bits of detailed information about "
G.I. Joe: Rise of Cobra
", writer Stuart Beattie unveiled that some of the key characters have had romantic relationship with each other either in the past or present time. Beatie confessed that Duke played by
Channing Tatum
and the Baroness portrayed by
Sienna Miller
were former lover, in fact the pair were fiancees but the relationship broke out when Duke left her at the altar. Another romance can be seen between Ripcord and Scarlett who allegedly can be seen flirting in the film. Apart from the four characters, viewers can also see the dynamic between Snake Eyes and Storm Shadow who are childhood friends.
Sharing more, the panel which consists also consultant Larry Hama and producer Lorenzo di Bonaventura noted that the movie is intended to be the first of many movies. It will provide the background story of the Joes and Cobra. "Rise of Cobra" is set for August 7, 2009 theatrical release.
"X-Men Origins: Wolverine" Footage Leaked
During the presentation of the forthcoming "
X-Men Origins: Wolverine
" some footages were being exposed, here below are the leaked video footages presented in two parts.
Part I: