Iron Man Teaser Trailer Will Hit the Net Earlier
September 8, 2007 (4:26 am) GMT
The initial footage can be seen online starting at 10:00 PM Eastern Time on Movies.MTV.com for 24 hours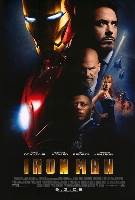 While director Jon Favreau recently informed that a teaser trailer for "Iron Man" would not be available online until September 11, it delightfully turns out to grace the net a bit earlier for sure.

Yes, it has been learned that the same trailer will officially be able to be seen online starting at 10:00 PM Eastern Time on Movies.MTV.com for 24 hours prior to its launch on Apple.com in a High Definition QuickTime version. So superhero fans, don't forget to mark your calendar if you really want to become the early viewers to watch it online.

Set for a May 2, 2008 release, "Iron Man" was mostly shot in California, with production based at the Playa Vista in the former Hughes Company soundstages, to then conclude its filming on June 25, 2007 at Caesars Palace in Las Vegas, Nevada. Actor portraying the title character, Robert Downey Jr., has been reported to get involved with motion capture work eight months after the completion of filming in order to realistically portray the armored hero's movements.