Cameron Fay Evokes Laughs at Universal
July 19, 2007 (8:32 am) GMT
Young filmmaker Cameron Fay is set to both write and direct a relationship comedy as his second film feature for Universal Pictures after "Unnatural Selection."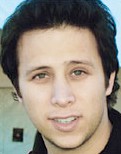 Working on his second big screen project for Universal Pictures, 25-year-old filmmaker Cameron Fay reportedly is in charge to both write and direct a comedy pitch of his of which rights have been secured by the studio.

Little is known about the untitled project since plot details are being kept tightly under wraps, but it is learned that the flick will be a relationship comedy and produced by Mary Parent and Scott Stuber via their Stuber/Parent shingle. Overseeing the film for the company is Alexa Faigen while Scott Bernstein and Maradith Frenkel are both overseeing for Universal.

Fay, who went to NYU's Tisch Film School and was a Lew Wasserman Scholar, currently is busy prepping rom-com flick "Unnatural Selection" which Universal successfully picked up in March. The man recently had his two short films "Tom's War on Terror" and "Redemption Song" premiered at this year's South by Southwest Festival and Sedona International Film Festival, respectively.