Jeff Daniels Is One of "Mama's Boys"
April 13, 2006 (7:17 am) GMT
Jeff Daniels will join Jon Heder and Diane Keaton in "Mama's Boy," the Warner Independent Pictures comedy that will be directed by Tim Hamilton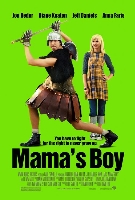 Variety brings the news that Jeff Daniels is about to join Jon Heder and Diane Keaton to star in "Mama's Boy".

Of comedy genre, the flick centers on a self-absorbed man in his late 20s (Heder) who still lives at home with his mother. The man's world turns upside down when his mother starts dating and considers booting him out of the house.

In hand directing is Tim Hamilton, with Heidi Santelli is producing and Steve Carr is executive producing. Wrote the script is Hank Nelken.