10 Top-Grossing Films at U.S. Theaters
April 10, 2006 (3:58 am) GMT
"Ice Age: The Meltdown" took in $33.8 million to remain the top movie for a second-straight weekend and become the first movie released this year to c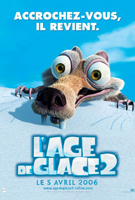 Who's on top of US box office? Believe it or not it's still "Ice Age: The Meltdown". Taking in another $33.8 million in ticket sales, the flick satisfyingly remains the top movie for a second-straight weekend while also is becoming the first movie released this year to cross the $100 million mark at the box office.

Debut at 2nd place is sports comedy "The Benchwarmers" which takes in $19.7 million and "Take the Lead" is at 3rd with $12.1 million. No. 4 is "Inside Man," which scores $9.1 million in ticket sales, followed after by "Lucky Number Slevin" at No. 5 with $7 million. Secures the 6th place is "Failure to Launch" which takes in $4.1 million.

Meanwhile, the 7th position is secured by drama comedy "ATL" with $3.7 million, ahead of "V for Vendetta" at No. 8 with $3.4 million. No. 9 is "Phat Girlz" with only $3.1 million, while "Thank You for Smoking" is 10th with $2.3 million.