Indiana Jones 4 May be Shot in Australia
April 4, 2006 (4:50 am) GMT
Indiana Jones' much awaited next round of whip-cracking adventures may be shot in Australia, says Hollywood super-producer Frank Marshall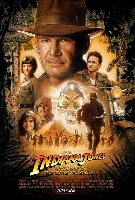 Listen to Hollywood super-producer Frank Marshall. He says that the highly anticipated "Indiana Jones 4" will soon start its production and may be shot in Australia, Europe or the United States.

"My job as producer is to get the movie made so if I can do it better and cheaper here in Australia, then I am going to do it", so said Marshall while adding "Australia is a definite possibility for Indiana Jones and a couple of other things I am working on at the moment."

Marshall is producing the action adventure alongside George Lucas, with Steven Spielberg has been attached to direct. In the meantime, the script for the film is still being written with production likely to go ahead in 2007.