All About the Beatrix Potter Biopic
March 20, 2006 (6:48 am) GMT
The Weinstein Company has acquired North American rights to "Miss Potter" from Phoenix Pictures and David Kirschner Productions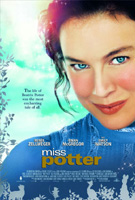 Coming soon in theater, "Miss Potter". The Weinstein Company has acquired North American rights to the Beatrix Potter biopic from Phoenix Pictures and David Kirschner Productions.

The drama movie is in production in UK and stars the likes of Renee Zellweger, Ewan McGregor, and Emily Watson. In hand directing is Chris Noonan, while David Kirschner, Mike Medavoy, Arnold Messer, Corey Sienega, and David Thwaites are all producing.

As of its story, "Miss Potter" explores the life of the author of such beloved children's books as "The Tale of Peter Rabbit" and her struggle for independence in Victorian England. The live-action film will have some animated elements.