2006 Saturn Awards Nominations
February 21, 2006 (8:23 am) GMT
"Star Wars: Episode III -- Revenge of the Sith" leads the 32nd annual Saturn Awards with 10 nominations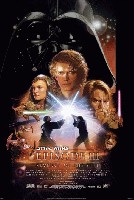 The Academy of Science Fiction, Fantasy & Horror films has announced the nominations for the 32nd Annual Saturn Awards. Leading the pack is "Star Wars: Episode III - Revenge of the Sith" which is up for 10 nominations. Following close behind is "Batman Begins" with nine nominations, while "The Chronicles of Narnia: The Lion, The Witch and The Wardrobe" and "Harry Potter and the Goblet of Fire" receive 8 nominations each.

"Revenge" ups for the categories of Best Science Fiction Film, Best Actor for Hayden Christensen, Best Actress for Natalie Portman, Best Supporting Actor for Ian McDiarmid, Best Direction and Best Writing for George Lucas, Best Music, Best Costume, Best Make-Up, and Best Special Effects. "Narnia" on the other hand is nominated for Best Fantasy Film, Best Actress for Tilda Swinton, Best Performance By A Younger Actor for William Moseley, Best Direction, Best Writing, Best Costume, Best Make-Up, and Best Special Effects.

Some other movies make the list of the nominees among others are "Fantastic Four", "The Island", "The Jacket", "Serenity", and "War of the Worlds." Hosted by comedian Jeffrey Ross, the Saturn Awards will take place May 2 in Universal City. Get a complete list of nominations at http://www.backstage.com/bso/news_reviews/announcement/article_display.jsp?vnu_content_id=1002033560.