The New York Film Critics Online Awards Winners
December 12, 2005 (4:08 am) GMT
"The Squid and the Whale" was chosen as the year's Best Picture Sunday by the New York Film Critics Online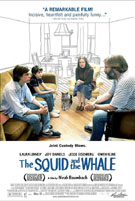 The 2005 New York Film Critics Online Awards meeting has been held on December 11, 2005. And here we provide you the list of the winners. Chosen as the year's Best Picture is "The Squid and the Whale," a dark comedy about the way divorce changes the members of a literary family. In the meantime, the Best-Director award goes to Fernando Meirelles for the African conspiracy thriller "The Constant Gardener."

Picked as the Best Actor is Philip Seymour Hoffman for his role in "Capote," while the Best Actress is Keira Knightley for her portrayal in "Pride and Prejudice." Oliver Platt, in addition, wins Best Supporting Actor for his action in "Casanova" and Amy Adams is honored the Best Supporting actress thanks to her role in "Junebug."

Visit http://ourworld.cs.com/harveycritic/myhomepage/homepage.html to find more about the awards winners.