Stuart Townsend Joining 'Chaos Theory' Cast
November 30, 2005 (7:57 am) GMT
Stuart Townsend has joined the cast of the romantic comedy "Chaos Theory" for Warner Independent Pictures and Castle Rock Entertainment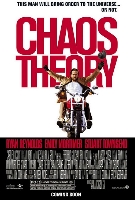 The already on-board cast of the forthcoming "Chaos Theory" will gladly welcome newcomer Stuart Townsend. The actor has just signed on to star in the drama comedy romance alongside Ryan Reynolds and Emily Mortimer.

The Warner Independent Pictures and Castle Rock Entertainment's project will have Marcos Siega to direct and Fred and Erica Westheimer's Lone Star Film Group to finance.

Based on a script written by Daniel Taplitz the story centers on a compulsive organizer (Reynolds) who decides to live his life without planning and in the process discovers love with Mortimer's character. Townsend completes the love triangle playing Buddy, the best friend of Reynolds' character who also falls in love with Mortimer's character.