Walt Becker Tame the Wild Hogs
October 31, 2005 (4:19 am) GMT
Walt Becker will direct "Wild Hogs," a comedy for Touchstone Pictures being produced by Tollin/Robbins Productions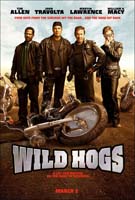 Walt Becker is about to tame the "Wild Hogs." Let's see can he do that perfectly.

"Wild Hogs," a comedy of Touchstone Pictures, is being produced by Tollin/Robbins Productions with Brad Copeland wrote the script.

The film revolves around a group of frustrated middle-aged biker wannabes who hit the open road in search of adventure, only to encounter a real Hell's Angels group.