Killshoters in Missouri
August 27, 2005 (3:56 am) GMT
Producers of "Killshot" confirmed that Diane Lane and other stars and crew will be in Missouri later this year or in early 2006 to shoot scenes for th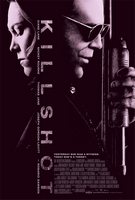 With a 2006 expected release date, "Killshot" stars and crew will be in Missouri later this year or in early 2006 to shoot scenes for the movie, producers confirmed. According to Jerry Jones, executive director of the Missouri Film Commission, scenes for the film will be shot in late December or early January.

"Killshot," which is based on the 1989 novel by Elmore Leonard, tells about a married couple who find themselves in Cape Girardeau while on the run from a pair of hitmen. "Cape Girardeau is of huge atmospheric importance to the film," so said co-producer David Webb.

The John Madden direction stars the like of Diane Lane, Mickey Rourke and Justin Timberlake.