Universal Pictures' "Express"
July 14, 2005 (3:56 am) GMT
One more new movie dedicated by Universal Pictures. "The Express" revolves the story of football great Ernie Davis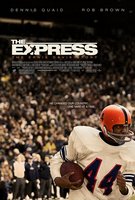 Getting bored with something usual? Longing for something different? Here welcome Universal Pictures' new dedication for you guys, "The Express."

For this new project, Gary Fleder has signed on to direct. "The Express" is based on Robert Gallagher's book, "Ernie Davis: The Elmira Express" and will revolve the story of football great Ernie Davis, who broke college records and racial barriers in the early 1960s.

To note, Davis was the first black player to win the Heisman Trophy, which is the coveted award given annually to the top college footballer. He was then drafted into the NFL, but was diagnosed with leukemia and died in 1963, aged 23.